wada – Wellness auf da Alm
fEEL THE power of the Alps
Just think about a wellness holiday in Salzburger Land: From the mill sauna and from the whirlpool you look out directly to the mountains. In summer the cows on the alpine pastures are right outside your window. Relax on the water beds in the cozy pine room, body and soul in harmony. Pure alpine air, mountains close enough to touch. This is the feeling of wellness in Salzburger Land. We call it "wada" – wellness auf da Alm.
Wellness on 4 floors
1,000 m² of wellbeing
Choose your favorite place for your wellness program. In our "Wada Residence" the focus is on peace and relaxation and so the rooms in this part of our wellness area are for adults only. 
The Wada Residence offers:
Swimming pool
Open-air whirlpool
Mill sauna on the larch tree alpine meadows
Rest rooms (not for children)
Pine room with water beds
Massage and beauty rooms
Large sun terrace
The relaxation room in "Wellnesslandl" is available to families with children. Here you will find more wellness highlights such as the Misty Grotto and 4 different saunas. For those who like sport, our fitness room is equipped with the latest cardio-apparatus.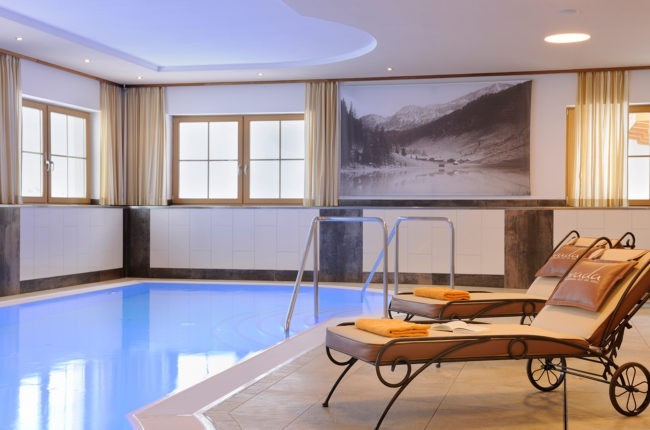 Feel time. Do nothing. Want nothing. That's luxury!
More "wada"
Wellnesslandl
In the "wada" Residence the focus is on peace and relaxation (rest room for adults only) but our "Wellnesslandl" is popular mostly by our little guests. Swimming baths, "Ice Bear Pool" with waterfall, the misty grotto, mountain crystal sauna (60 degrees), Finnish sauna (90 degrees), aroma steam cabins or infrared cabins – here too, plenty of things to experience and enjoy.
"wada" opening hours
"wada"-Wellness Winter:
from 7 a.m. to 7 p.m.: Swimming pool, infrared cabins, fitness room, solarium, hydro-massage
from 2 p.m. to 7 p.m.: All the wellness area, beauty and vital residence
"wada"-Wellness Sommer:
from 7 a.m. to 7 p.m.: Swimming pool, infrared cabins, fitness room, solarium, hydro-massage
from 2 p.m. to 7 p.m.: All the wellness area, beauty and vital residence
from 10 a.m.: Sun terrace
from 11 a.m.: Whirlpool
Wellness
ON 4 FLOORS
1000 m² OF WELLBEING
BEAUTY & VITAL RESIDENCE
2 AROMA STEAM CABINS - 2 INFRARED CABINS
4 DIFFERENT SAUNAS
SWIMMING POOL AND FITNESS ROOM
LARGE SUN TERRACE WITH A BEAUTIFUL VIEW OF THE SKI SLOPE AND MOUNTAINS
WITH 360 ° ZAUCHENSEE AND WHIRLPOOL ON THE ROOF